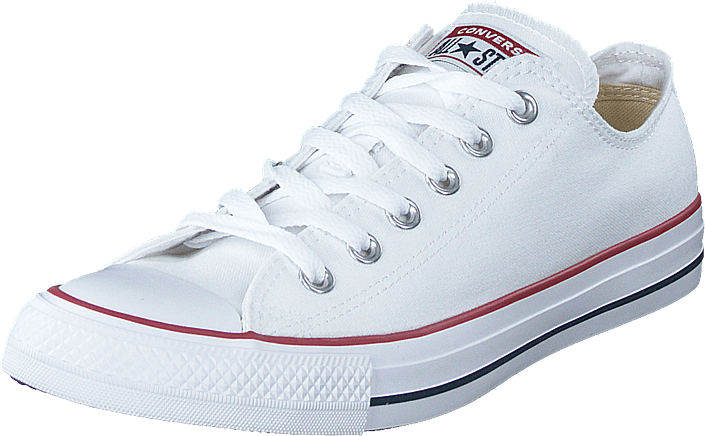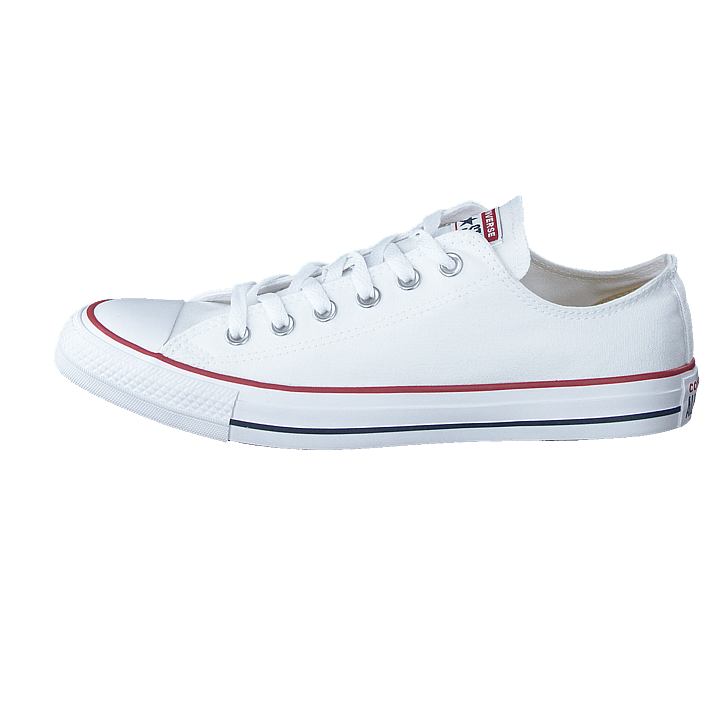 Converse
All star Canvas Ox Optical White
Przewodnik po rozmiarach
Dostępne w magazynie, możliwość wysyłki w ciągu 24 godzin

Darmowy zwrot!

30 dni na dokonanie zwrotu!
Opis produktu
Białe
Duże
Materiałowe
Guma
Sznurowadła
24597-00
Converse All Star Canvas Ox Optical White


Converse jest jedną z najbardziej popularnych firm produkujących buty, mającą długą historię, która sięga prawie 100 lat. Początkowo firma tworzyła głównie gumowe nakładki na buty, jednak z czasem zaczęła produkować sneakersy. Na przestrzeni lat powstało wiele modeli, ale jeden wyróżnił się nieco bardziej od innych – to Converse All Star Canvas Ox Optical White. Ten prosty, stylowy materiałowy model był noszony przez wszystkich - od atletów, poprzez znanych muzyków po zwykłych ludzi. Converse All Star Canvas Ox Optical White to buty, które możesz nosić przez cały czas, niezależnie od pory roku i okazji oraz zakładać je do wielu różnych ubrań.


Mocna guma i przewiewny materiał


Converse'y są niesamowicie popularne dzięki swojemu ładnemu i prostemu wyglądowi. Buty są zrobione z bawełnianego materiału i mocnego płótna oraz posiadają podeszwę wykonaną z wytrzymałej gumy. Pomimo prostej budowy, Converse All Star Canvas Ox Optical White są niesamowicie wygodne, a podeszwa zapewnia odpowiednią amortyzację. Wiele osób noszących Converse'y często zmienia sznurówki na różne kolory, aby stworzyć swój własny styl. Aby trampki służyły Ci jak najdłużej, możesz je w prosty sposób czyścić. Dzięki przewiewnemu materiałowi fantastycznie nadają się na wiosnę oraz lato.


Łącz Converse'y ze wszystkim


Converse'y potrafią uzupełnić wiele stylizacji. Proste buty pasują niemal do wszystkiego, niezależnie od tego, czy zakładasz garnitur czy wytarte dżinsy. Nie przyćmiewają outfitu, jedynie go dopełnianią, stawiając kropkę nad "i". Najlepiej jest nosić Converse All Star Canvas Ox Optical White wiosną oraz latem razem z dżinsowymi szortami, wzorzystą koszulą i kolorowymi dodatkami. Możesz nawet stonować swój strój zakładając trampki do odświętnej sukienki.


Pielęgnacja Converse'ów


Z racji tego, że Converse All Star Canvas Ox Optical White są wykonane z bawełnianego materiału oraz mocnej gumy, możesz używać różnych środków do ich czyszczenia. Jeśli się pobrudzą, możesz spróbować ostrożnie umyć je zwykłymi produktami. Gdy pada deszcz najlepiej będzie, jak zostawisz buty w domu, ponieważ materiał, z którego są wykonane łatwo pochłania wilgoć.
Pokaż więcej.
Dyskusja
Czas wysyłki to 1-2 dni roboczych
The shoes are very comfortable. Size according to the table
Rozmiar idealnie dobrany na podstawie długości wkładki. Buty bardzo wygodne i pasujące do wszystkiego! Polecam
Buty super! Kupiłam rozmiar 39 i pół i są idealne! Wygodne bardzo i pasują do większości stylizacji
Jak wybrać z tych rozmiarów? Wkładka 39cm
Niestety nie mamy takiego rozmiaru w naszym sortymencie.
Długość wkładki 24,5, jaki rozmiar wybrać z Converse?
witam jaki jest rozmiar dlugosc wkladki 24 cm i czy mozna zlozyc zamowienie a oplacic przy odbiorze zamowienie?
Witam. Który rozm ma długość wkładki 23,5 cm?
Według Converse tabeli rozmiarów poleciłabym rozmiar 37
Witam. Czy mozna zamawiać przesyłkę za pobraniem ?
Hej Aneto,
Nie mamy płatności za pobraniem.
Podaj swoje imię/ksywę, żebyśmy wiedzieli, kim jesteś =)
Ups… Podaj adres e-mail (nigdy nie wyświetlimy go bez twojej zgody!)
* = Pole obowiązkowe